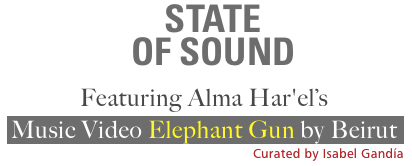 Isabel Gandía:
My interpretation of this video is that the narrative is a metaphor for the spectrum of moments within life itself. It is a celebration of beauty, love, loneliness, and melancholy, all expressed within a five minute clip. What is your interpretation of the narrative?
Alma Har'el: Elephant Gun was the first video I did for Beirut. All I can say is that Zach's (Zachary Francis Condon) music came into me and this (video) came out.
Hopefully, it is a celebration of things we experience in life, which are all equally acclaimed. There are a few themes in the video. Visually, I tried to dream up a room I will always miss.
The old maps of the entire world, the lust for travel and the beauty of love and getting lost in each other, while we drink and celebrate. Then, of course, is the loneliness and isolation that comes with the endless hunger to be ourselves, take off what binds us to a persona and suddenly release our fantasies so that we can be part of nature and the world.
I remember walking around and picking up confetti from the floor and knowing it is a moment that I will always visit. I love Zach Condon and I'm happy he is in all of our lives with his sublime music.