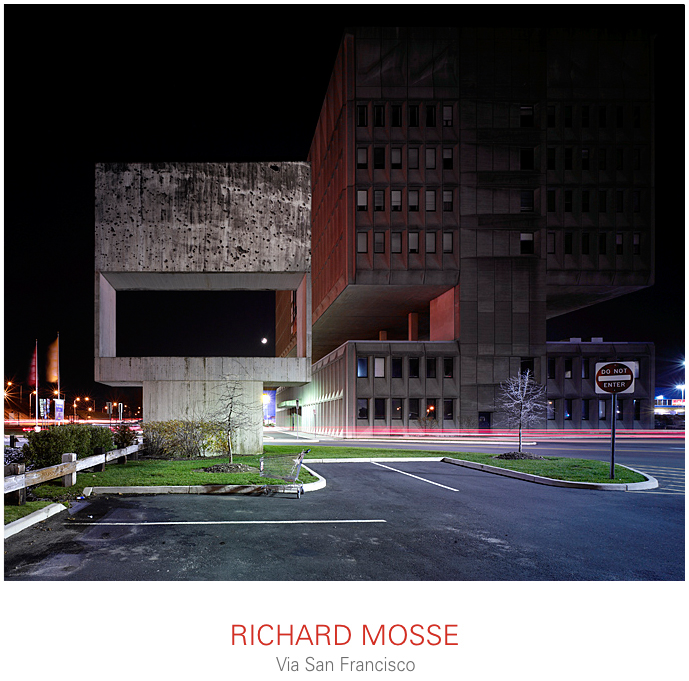 WARS (NEW HAVEN)
WAS PHOTOGRAPHED in the parking lot of an Ikea housed in Marcel Breuer's Pirelli Building, designed in 1969. This Brutalist monolith looms over Interstate 95 as you drive into New Haven, overlooking the shore of Long Island Sound.
I was drawn to the building's unapologetic ugliness in the same way that I find Beirut's bullet scarred urban landscape resonant and moving. They both seem thoroughly Romantic in a post-industrial sense, the only last ciphers of any beauty in our wasted world. I photoshopped the bullet scarred surface of a civil war-damaged ruin in Beirut onto the Ikea signage plinth, replacing the Swedish Meatballs banner with sniper fire. The gesture turned this advertising pedestal into a monument for a vicious internecine war in a distant land.
The aging residue of Beirut's civil war is fast disappearing in a maze of Gulf-style development, roof-top night clubs and Paul patisseries. History has been appropriated by a contested government's exercise of eminent domain, converting the city's suffering into an investment opportunity. Yet cratered and shelled ruins do remain, incongruously situated in the midst of Starbucks and Swarovski redevelopment, their condemned sites disputed by broken families, their owners fled or forgotten in the city's recent upheaval.
These Modernist ghosts of aborted development are the wounds of an unforgotten past—testaments to the seething hatred that cannot be whitewashed over by Saudi money, French style, or Syrian cleaners.
Artists' interventions with architecture are often expressed as wounds: Gordon Matta-Clark's 'building cuts', Rachel Whiteread's Ghost, Walid Raad's Scratching on Things I Could Disavow. Puncturing and defiling the fragile urban surface seem paradoxically therapeutic, a kind of neurotic exhumation dialogue which is psychoanalytic in nature. Making this image, I was confronted by the disconnect between a Brutalist design style and the truly brutal traces of war, a reality that rarely materializes in the vacuum of American life.