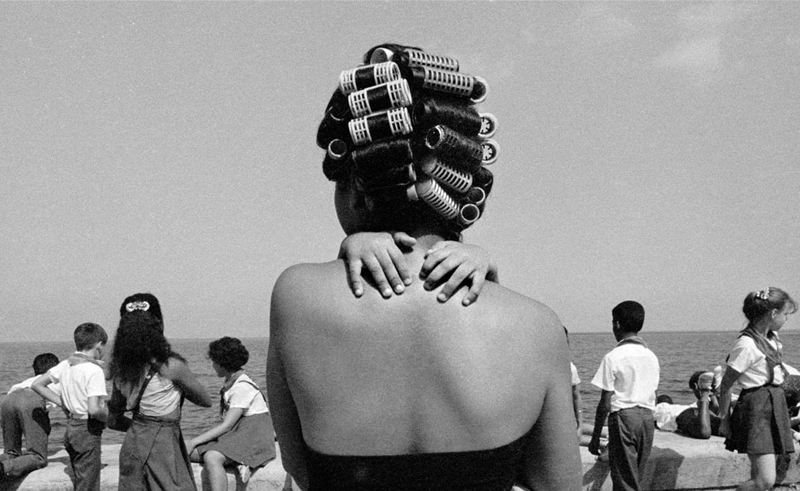 Profile by Adriana Teresa Letorney
Through the eyes of  Raul Cañibano Ercilla, one can see life in Cuba from an intimate perspective, with all its complexities, wonders, struggles, humanity, love and sense of integrity.
In his black-and-white photographs, Mr. Cañibano captures Cuba's national identity; one that may very well be threatened by the inevitable thrust of economic development and an international tourist economy.
He was born in Havana in 1961, two years after the beginning of the Cuban revolution, and grew up to be a welder working in civil aviation. While on vacation in 1990, Mr. Cañibano visited Cienfuegos — a city in south-central Cuba at the heart of the country's sugar cane, mango, tobacco and coffee production area — where he had lived as a child.
There, he met a photographer who shot birthday parties and social events. This encounter launched his own career as a photographer. Mr. Cañibano began by shooting weddings and quinceañeros. But the 1990s were difficult. The supply of photographic materials that came to Cuba from East Germany was disrupted. As a result, Mr. Cañibano had to work with expired materials as he prepared the chemistry for developing, processing and printing.
By the end of the decade, he had begun to grow as a visual artist. In the series "Tierra Guajira," he explored the theme of life in the countryside; a place he longed for, a place that transported him back to his childhood. And he paid homage to the humanity, kindness and nobility of the Cuban farmer. The series was awarded the grand prize in the 1999 Cuban national photography exhibit.
Other themes he has explored include religion, festivals and everyday life in the country and in the cities. Hispanic Catholicism and African religious practices are of great interest to him, as he says that religion is the reason why different cultures survive.
In his documentation, he feels responsible for providing an accurate portrayal of Cuban life. Today, Mr. Cañibano works as an advertising photographer in Havana. His images have been exhibited and recognized worldwide. It has been an honor to collaborate with him but I'm left wishing for something more: I sincerely hope to meet him in the near future.
. . .
Originally Published in the New York Times Lens Blog, June 4, 2010