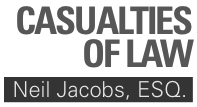 During my thirty years practicing law, I have worked with many creative people, including photographers, writers and musicians. Ten years ago, I formed my own law firm size. Tired of a relentless step toward an increase in law firms, I felt a sincere desire to do things my own way, and approach my practice with the same individual voice.
In the past, individual creativity had been protected by copyright—literally, the right to control the production of copies of your work.
When making copies of an original work became difficult—eg, involved the use of a $100,000 printing press, or extensive photographic development laboratory—one set of Copyright rules was created. Yet, when the digital generation came along, and a gallery-quality photo could be scanned and sent around the world at no cost, or an author's masterpiece could be pdf'd and uploaded to a website, blog, wiki, etc., a new set of rules for copyright was needed. In the year 2000, Congress passed the Digital Millenium Copyright Act (DMCA), a first attempt at updating the copyright laws for the digital age.

Historically, to claim copyright in a creative work, a creator had to file a notice with the Copyright Office in Washington, DC—along with a copy of the creation. A few years ago, the filing requirement was abolished, and all a photographer had to do was to place a copyright notice at or near the reproduction of the work; for example, ©2010 Josephine Blosephine.
The DMCA prevented the removal by third parties of "copyright management information". This term referred to technologies—like anti-copying software on DVDs. Yet, did in fact this include the simple copyright notices? From my perspective, this was not addressed clearly in the law.
The DMCA also gave copyright owners additional rights—such as, for example, the right to provide a "take-down notice" to a website infringing your copyright to take it down immediately without having to go through a litigation process. Different courts came to different conclusions on
whether a traditional copyright notice was sufficient. It is important to know that all arises in the federal system and copyright law is all federal law.
In Wayne Cable v. Agence France Presse, photographer Wayne Cable authorized a realtor to display his copyrighted photographs (bearing the copyright notice above) of a home so long as they kept his copyright notice and a link to his website. Agence France Presse copied the photos without his permission, and he sued under the DMCA. After reviewing the statute's plain language, legislative history and the findings courts, the court found that the existence of his copyright notice plus a hotlink to his website was sufficient to make out a DMCA violation. The takeaway here is: including your copyright notice in as many places as possible, as well as a link to your own website is always a good idea.
Over the next few months, I will be contributing a column on legal issues related to photography, copyrights and digital media. The materials in this online magazine are provided for informational purposes only and do not constitute legal advice on any matter. I cannot assume responsibility for the accuracy or timeliness of any information provided herein. The reader should not under any circumstances rely on, or act on the basis of, the materials on this website. I emphasize that these materials are not a substitute for obtaining legal advice from the reader's own lawyer in the appropriate jurisdiction or state. Browsing this website or contacting us through it does not create an attorney- client relationship.
Still, it is important to address these matters with the hope that the conversation will continue and evolve over time, as legal rights do.
Photographers should be aware of the legal issues affecting their work, and should want to discuss with their lawyers the best ways to protect it.
As photography and digital technology evolve, so do the laws applicable to it.
So come on along – it's a fun ride.