In Conversation with Adriana Teresa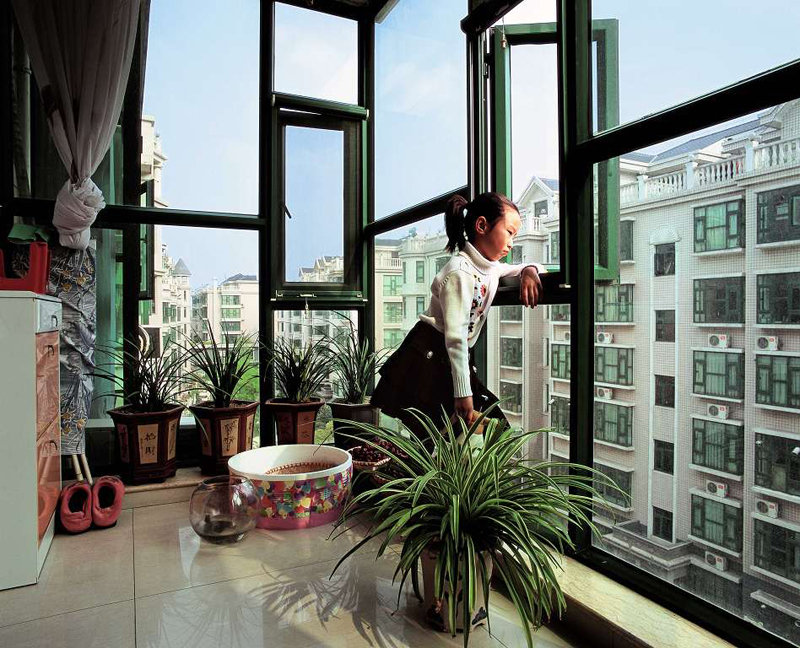 Su Sheng, Lili Wei. From the series « Chinese childhood », 2008
Curated by Nathalie Herschdorfer and William Ewing—reGeneration2 showcases the inspiring creativity and ingenuity of 80 photographers about to begin a career. Together, they represent 48 photography and art schools from 25 different countries. The resulting exhibition reveals the flexibility of young photographers as they pass fluidly from one genre to another, and/or one technique to another.
William Ewing is a well-known curator. He was one of the curators of the NYPH 09. His exhibitions have been shown at major institutions such as the Museum of Modern Art and the International Center of Photography, New York; the Centre Pompidou, Paris; the Museo Nacional Centro de Arte Reina Sofía, Madrid; and the Hayward and the Serpentine Galleries, London. His numerous books include The Body, The Face: The New Photographic Portrait, Edward Steichen: In High Fashion, the Condé Nast Years and Ray K. Metzker: Light Lines. William Ewing was Director of Exhibitions at the International Center of Photography, New York, between 1977 and 1984, and Director of the Musée de l'Elysée, Lausanne, from 1996 to spring 2010. For many years, he taught the history and analysis of photography at the University of Geneva. Today, he is the Chairman of the Board of Ivorypress, London / Madrid, and an international editor at Thames & Hudson, London / Paris.
Nathalie Herschdorfer is Curator at the Musée de l'Elysée, Lausanne. An art historian specializing in the history of photography, she has worked on a number of important international exhibitions and co-authored numerous books, including monographs on Valérie Belin, Leonard Freed and Carlo Valsecchi. She was one of the curators of reGeneration: 50 Photographers of Tomorrow and a contributing author to Face : The New Photographic Portrait, which was also an exhibition shown in several European countries. She co-curated the retrospective dedicated to Edward Steichen, a major show that traveled in France, Switzerland, Italy and Spain in 2007 and 2008. She is currently completing a photography book for Thames & Hudson on the social aftermath of important historical events. She has been appointed director of the Swiss photography festival, Alp. +1000, to be held in Summer 2011.
Adriana Teresa: What is the reGeneration project about.
NH: reGeneration2: Tomorrow's Photographers Today' showcases the work of 80 photographers about to begin a career. The project set out in 2005 to show the work of young photographers who may well emerge as some of the finest artists of their generation. We selected the most promising candidates from some 700 entries submitted by 120 of the world's top photography schools.Together, they represent 48 photography and art schools from 25 different countries.
The show is accompanied by a book published by Thames&Hudson. It will be launched at the
Musée de l'Elysée
, Lausanne (Switzerland) in June 2010, and then be shown simultaneously at the Rencontres d'Arles (France) in Summer. Then, it will circulate in several countries : among them, Cape Town (Michaelis School of Fine Art) at the end of July, Milan (Galleria Carla Sozzani) in November, New York (Aperture Foundation) in January 2011. Aperture Foundation will publish the American edition of the book and make the show travel in the US.
AT: How did it come to life & why?
NH: Five years ago, the Musée de l'Elysée celebrated its 20th anniversary. For this anniversary, the museum wanted to have something new and look into the future. We were talking about the future and were wondering who will be the finest photographers in a twenty years' time. The first question was where photography itself was going at the digital age. If 20 years is the age of maturity for a photographer (museums like the Elysée regularly show mature photographers with substantial accomplishments) , which of the young photographers emerging today, we wondered, will be fully mature in twenty years? Which ones will be looked at, and listened to, in twenty years? What are young photographers up to in the twenty-first century? And how do they see the world ? How much do they respect, build on, or reject tradition?
So we decided to invite the world's top photography schools. The project was made possible with the cooperation of the directors and teachers who proposed 10 candidates each per school. All genres and subjects were accepted, whether produced by analogue or digital processes. We tried to keep an open mind throughout the selection process, whether the photographers had chosen a documentary or an artistic approach, whether they worked with film or specialized in pixel editing, and whether they supported their work with a detailed concept or preferred shooting spontaneously and freely. The names of the schools were hidden during the selection process. Similarly, the nationalities and background of the candidates were never criteria for selection. Nor were works selected only for "new tendencies" – traditional approaches, if well executed, were also welcomed. In 2005, we made a selection of 50 photographers. This second edition turns the spotlight on 80 up-and-coming talents from 30 countries.
AT: What is contemporary photography for you.
NH: Looking at the portfolios received (700 entries!), we found that the urban space – a moving, saturated environment that disregards human beings and nature – is a subject that is extensively addressed, as is globalization, which extends to all cultures of the world. Many photographers use their medium to observe the intimate and to explore identity, which has become insecure. The beginning of the twenty-first century is characterized by speed and the transitory, which undeniably weaken human beings – a theme also tackled by young photographers.They also like mixing techniques, switching from analogue to digital photography as easily as they switch from documentary to fiction. Today's artists are flexible. They travel, they move around, they go through places, themes and genres. Contemporary photography does not come in a unique style; it is as diverse in its techniques—from the use of large-format to small digital cameras —as it is in its influences. reGeneration showcases young artists focusing on major themes as diverse as the urban environment, globalization, issues of identity and memory, their use of hybrid techniques allowing them to obscure as never before the distinction between reality and fiction.
AT: What do each look for in a photographic series or a photographer today that you didn't look for three years ago?
NH: The first edition of this project 'reGeneration : 50 photographers of tomorrow' was made in 2005. When we discovered the portfolios submitted for the second edition, it means 4 years later), we found that the interests actually were similar. By examining art practices today, one might conclude that variety takes precedence and that very few photographers limit their practice to a single technique or a single domain. A range of practices exist that lean towards photography. Exchanges, hybridizations and mixing of techniques proliferate. The term 'creolization' has recently emerged in the field of music. There is no doubt that contemporary art is experiencing a similar movement. It is perhaps inaccurate to call all the young practitioners represented in reGeneration 'photographers'. In English (not in French!) there is a better term, 'image-maker'.
AT: What is the goal of your project in regards to Photography? Why is this your focus?
NH: We chose to add a subtitle to reGeneration2 –'Tomorrow's Photographers Today'– for the work presented illustrates some of the most daring forms of contemporary photography. One of the artists, Thibault Brunet, presents images that are not photographs – they are taken from video games – and yet their language refers to the photographic medium. On the other hand, there are artists who do use photographs, even though the final work seems far removed from photography.
Rather than witnessing the end of photography—The debates surrounding the future of the medium have been numerous over the past fifteen years!
AT: What parameters would you like to transcend?
NH: The proliferation of digital technology has encouraged this movement, which has enriched our thinking regarding photography and its applications. Our understanding of images has also become more sophisticated. We know it is possible to modify, distort, recreate and compose images without even using a camera. The Internet also offers a myriad of images of all kinds. Digital technology, retouching and total construction techniques have become so widespread that nothing really surprises us when we discover new types of photography.
AT: Anything you would like the public to know about this project.
NH: The schools have certainly operated as a filter – each could only submit up to ten portfolios – but the process helped us discover individuals that we would never have come across by ourselves, since most are not represented by a gallery or agency, nor are they yet published in the specialized press. We realize that selecting photographers through schools excludes those who are trying to work on their own (and there are many!). We accept the consequences of such a procedure, regrettably aware that some countries are under-represented or completely absent, due to their lack of specialized schooling. The teaching of photography is predominantly an established tradition in Western art schools! This explains certainly why we have so many Western photographers represented in the project!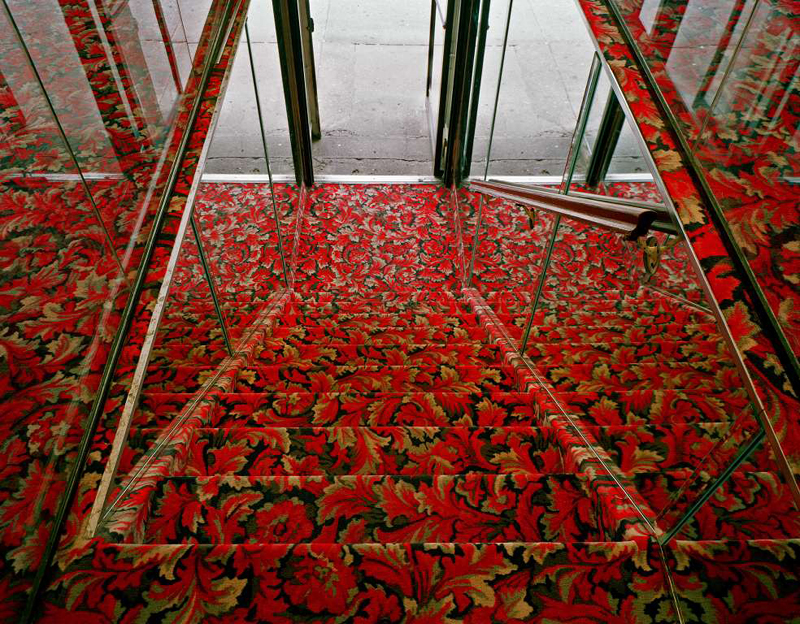 Christine Callahan, Tabernacle. From the series « 58 Empress Pines Drive », 2007
—
Originally published on theNew York Photo Festival blog