There are days when you feel a sense of spiritual entrapment that pervades your entire being. During these times, it seems as if there is no open door. Although you see possibilities, you cannot recognize them as opportunities. Instead, the obvious solution becomes the only answer, and it tends to be the one unattainable fix.
The wait for inspiration is a torturous one. I tend to stare into the nothingness camouflaged as whatever image my eyes choose. Many times, while submerged in the numbness, my eyes focus so poignantly into the void. Every blink is a desperate attempt to recover the energy that fuels my day to day. I call that verve, my north.
All one needs is a north, to visualize direction. I always think we give one hundred reasons as to why we cannot do something, when all we need is one sterling premise. Throughout the years, I have found my reason in my personal definition of love.
I understand that from time to time we may find ourselves in this barricade. Still, like a sudden death, it comes unexpectedly, and I cannot help but to rage. It is difficult to be focused during these moments, and I cannot afford to fail.
Recently, I interviewed Efráin Recinos, a respected and known Guatemalan artist. During our conversation, he said something that resonated with me profoundly: "Whatever you decide to do in this life, you must choose it for love. If you do not act with love, you might as well do nothing at all." I need to remember this.
Mr. Recinos, I dedicate this issue to you. Thank you for igniting my path. Though there are things outside my control right now, I believe in my north, even if I still remain to see it.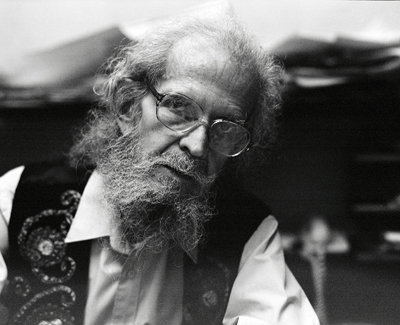 Efraín Recinos in his office, Teatro Nacional, Guatemala City, 2010
Photo by A.T.
To you, dear Reader, I hope you enjoy this Issue! Thanks to every artist who contributed and for your dedication and generosity. I would also like to extend a special welcome to photographer Larry Fink, who has joined Jeff Jacobson, Richard Mosse and the rest of the Visura family with a new column.
Let us put our energies into moving forward with peace. Poco a poco y sin nada de alboroto, little by little without making a fuss.
Kindly,
Adriana Teresa
Publisher