BACK TO CURRENT ISSUE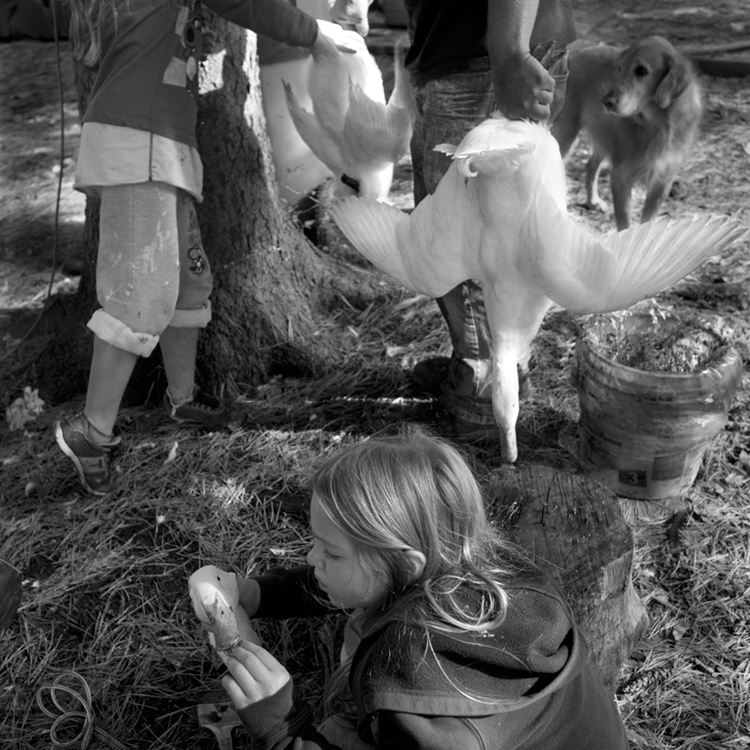 AMILY VALUES hath killed the goose: a short noose, an ax, and a spasm, suggesting surrealism or expressionism. However, one must remember, art comes from life. What we see and how we see is the fluttering of the outside reality: the associative and perceptual layering from the experience of the inside eye.
The family are my friends. They live 1/2 off the grid by producing their own food and selling some to others.
This was the common family slaughter, each month or so; or as the birds suggest, by the terms of their efficiency (egg laying). The whole family gets together and works hard at killing, plucking, and freezing the birds…
I am, thankfully, the official slaughter photographer. We reap with our eyes, degrees of curiosity, and / or for some, horror…
…and not to mention the 17th century Northern European paintings of the fete and the feast.
Hands On
An ongoing column by Larry Fink
About the Photographer
Larry Fink is a professional photographer of 45 years. He has had one man shows at the Museum of Modern Art, the Whitney Museum of Modern Art, the San Francisco Museum of Art, the Musee de la Lausanne Photographie in Belgium, and the Musee de l'Elysee in Switzerland, amongst others. Along with two John Simon Guggenheim Fellowshipsin 1976 and 1979, and two National Endowment for the Arts, Individual Photography Fellowships in 1978 and 1986, he was awarded an honorary doctorate from the College for Creative Studies, College of Art and Design, Detroit, 2002. Larry has several books published including: Social Graces (Aperture 1984, no longer in print); Boxing (powerHouse Books 1997); Fish and Wine, (Lafayette College, 1997); Runway (powerHouse Books 2000); a second publication of Social Graces (powerHouse Books 2001); The Forbidden Pictures (powerHouse Books 2004) a political satire on the Bush regime; Larry Fink (Phaidon 2005); Primal Elegance (Lodima Press 2006); and Somewhere There's Music (Damiani Editore 2006). Larry also has a commissioned book from the Cleveland Clinic called Two Views (2006). In 2008 he created a high art, promotional book for the Frescobaldi Family in Italy.