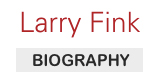 LARRY FINK is a professional photographer of 45 years. He has had one man shows at the Museum of Modern Art, the Whitney Museum of Modern Art, the San Francisco Museum of Art, the Musee de la Lausanne Photographie in Belgium, and the Musee de l'Elysee in Switzerland, amongst others. He shows in galleries regularly in New York, Los Angeles, and Paris, France. Along with two John Simon Guggenheim Fellow- ships in 1976 and 1979, and two National Endowment for the Arts, Individual Photography Fellowships in 1978 and 1986, he was awarded an honorary doctorate from the College for Creative Studies, College of Art and Design, Detroit, 2002.
Larry has several books published including: Social Graces (Aperture 1984, no longer in print); Boxing (powerHouse Books 1997); Fish and Wine, (Lafayette College, 1997); Runway (powerHouse Books 2000); a second publication of Social Graces (powerHouse Books 2001) which features images of that time never published before; The Forbidden Pictures (powerHouse Books 2004) a political satire on the Bush regime; Larry Fink (Phaidon 2005) a small retrospective book; Primal Elegance (Lodima Press 2006); and a book of music images Somewhere There's Music (Damiani Editore 2006). Larry also has a commis- sioned book from the Cleveland Clinic called Two Views (2006). In 2008 he created a high art, promo- tional book for the Frescobaldi Family in Italy.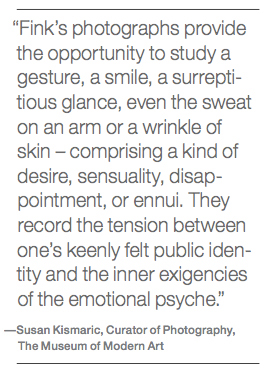 His commercial work includes advertising campaigns for Smirnoff, Bacardi, and Cunard Lines (Q.E.2). His work has appeared in top publications such as Vanity Fair, W, GQ, Detour, The New York Times Magazine, and The New Yorker. He has been teaching for the past 41 years, the last 16 years as a professor of photography at Bard College.
Larry has had one-person shows at the Museum of Modern Art, 1979, Les Rencontres de Photographie, Arles, France, 1993; Musee d l'Elysee, Lausanne, Switzerland, 1994; the Whitney Museum, 1997, Musee de la Photographie, Charleroi, Belgium, 1997; along with gallery shows too numerous to mention over the last four decades. More recently, in 2007, Larry has had several shows; "Larry Fink and George Grosz" at the Heckscher Museum in Long Island, "Somewhere There's Music" at the Gallery Forni in Milan, Italy, "Somewhere There's Music" at the Museo de la Rosse in Bologna and the Museo Alinari in Florence, Italy and "Logging, The Olympic Peninsula" at the Lorenselli Arte Gallery in Milan, Italy. He also co-curated a show on Lisette Model and her influence on the world of photography for the Aperture Foundation that opened in September 2007. At the Metropolitan Museum of Art, Larry photographed an interactive exhibition where the images of the evening were projected on the wall in real time in the Temple of Dendur. In February 2008 at Princeton University, he exhibited a mini study of poverty in America entitled "Diminishing Returns". Larry was commis- sioned by Vanity Fair to cover the 2008 political trail of Barack Obama, Hillary Clinton, and John McCain. These photographs were shown at the Pace/MacGill Gallery in New York and at the Robert Klein Gallery in the Fall of 2008. His latest project, photographing the Orpheus Orchestra is currently at Lafayette College until May, 2009.
Website: www.larryfinkphotography.com | Read Full Biography