BACK TO CURRENT ISSUE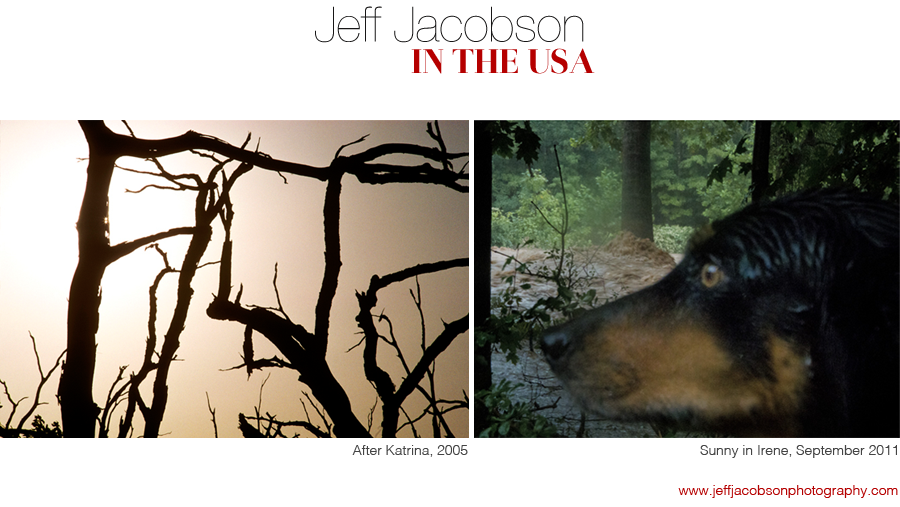 Last summer it was floods. Irene came through in late August bringing too much water. The Little Beaverkill washed our road away. Irene was an echo of Katrina. We are no longer just threatened by global warming.
It has begun.We're in the soup.
In The USA
An ongoing column by Jeff Jacobson
In The USA, a column by Jeff Jacobson, features one image chosen by the photographer that explores the way he feels about various aspects of the world he inhabits.
About the Photographer
Jeff Jacobson was born in Des Moines, Iowa, in 1946. He has published two books, My Fellow Americans, University of New Mexico Press, in 1991, and Melting Point, Nazraeli Press, in 2006. Jacobson joined Magnum Photos in 1978. He later left Magnum to help found Archive Pictures. Jacobson's photographs are in the permanent collections of The Whitney Museum of American Art in New York, The San Francisco Museum of Modern Art, The Houston Museum of Fine Art, George Eastman House in Rochester, NY, The Center For Creative Photography, Tucson, Az., The Joy of Giving Society in New York, and have been exhibited at The Walker Arts Center, Minneapolis, Minnesota, The International Center of Photography, New York, The Jewish Museum, New York, High Museum of Art, Atlanta, Ga., Museo Rufino Tamayo, Mexico City, The Armand Hammer Museum in Los Angeles. Jeff teaches workshops yearly at the International Center of Photography, in New York, and has also taught at The Tuscany Photo Workshop, The Anderson Ranch, Center For Photography at Woodstock, the Julia Dean Photo Workshop, in Los Angeles, and Centro de la Imagen, in Mexico City, He has won grants from the National Endowment For The Arts, and The New York Foundation For The Arts. He has worked as a photojournalist for major magazines around the world.