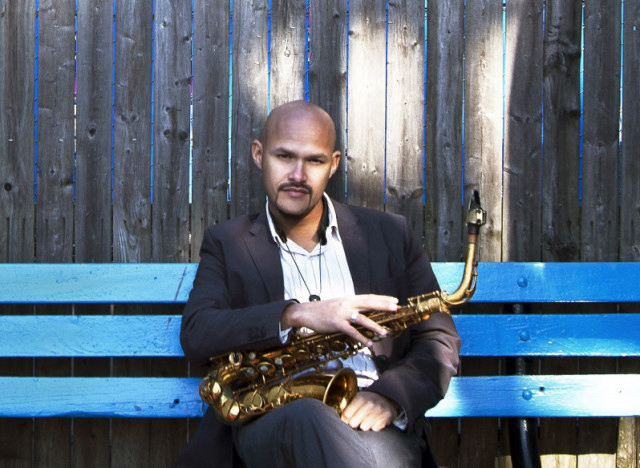 Interview by Adriana Teresa Letorney
Grammy Nominee and Guggenheim and MacArthur Fellow Miguel Zenón recently finished his new album–Alma Adentro: The Puerto Rican Songbook, which will be released on August 30th, 2011.
Born and raised in San Juan Puerto Rico, Zenón adapted traditional popular songs by legendary Puerto Rican composers–Rafael Hernández Marín, Pedro Flores, Sylvia Rexach, Bobby Capó, and Don Tite Curet Alonso–to jazz, a genre that has a tradition of making standards from popular American songs. The music in this album was arranged by Zenón and orchestrated for a 10-piece woodwind section by Argentine pianist, composer and arranger Guillermo Klein.
Adriana Teresa candidly speaks with Miguel Zenón about Alma Adentro, his commitment to music and education, and a future project.
Adriana Teresa: What does Alma Adentro mean to you?
Miguel Zenón: I have a very profound and personal connection with many of the songs in this album. I grew up listening to them through my parents and playing them during my early experiences as a musician. The lyrics and music in all of these songs have a strong sentimental component that digs deep within my character as an artist. To me, the song "Alma Adentro"–Deep in the Soul– represents this feeling, which is why I chose it as the title of the recording.
AT: Why did you invite Guillermo Klein to orchestrate the music?
MZ: I've known Guillermo for more than ten years, and could confidently say that I've experienced some of the happiest and purest musical moments of my life while playing his music on Los Gauchos. He's not only one of my biggest inspirations but also a very close friend. I had been thinking of doing some kind of collaboration with him for a while, and this project seemed like the perfect opportunity. I had heard a piece of his for woodwind ensemble and saxophone and thought that some of those sounds would fit this music perfectly. Also, and I think this is the main reason why I wanted to work with him on Alma Adentro, Guillermo is not one of those composers that uses orchestration as the core of his writing. He is a songwriter, who thinks "song first" (micro) and then expands. I feel that he approached his orchestrations on this recording that way, which was key for me.
AT: What is your concept as a composer?
MZ: As a composer, I'm basically trying to represent myself through my music in an honest way. This "journey" has taken me back to Puerto Rican folkloric music, which I have studied and researched with the intention of incorporating its sounds within my own compositions. The process on Alma Adentro was different because I was working from the point of view of an arranger, working with songs which are Latin American "standards". I approached all the arrangements on the record in a similar way by delving into the musical structure of the songs first and then injecting my own ideas. At the same time, I kept the melody intact to preserve the original spirit of the song.
AT: Is there a message to your music?
MZ: I don't really think about music that way. For me, it is more about being honest and representing where I am at the moment.
AT: How do you describe your music?
MZ: Even though the music I make gathers influences from all over the place, I feel that the core of what I do comes from the jazz tradition. In terms of improvisation, interaction, feel and overall concept, Jazz is my main source of information and inspiration.
AT: What advice do you have for aspiring jazz musicians?
MZ: Study the tradition, learn to play your instrument well, and stand strong within your convictions.
AT: What advice do you have for emerging jazz musicians?
MZ: I put myself within this category, so I wouldn't know what to advice.
AT: How does art and culture contribute to the economy of a country?
MZ: Cultural activity can make a city more attractive and in turn, more prosperous. But the people themselves (specially those with power) need to make arts and culture a priority before they can gather any kind of economic benefit that comes from investing on these things. So, in a way, it's all about education at every level: teaching people about the importance of having quality art around you.
AT: You are a composer and musician artist, as well as an educator. What is one educational project that you have spearheaded that has a personal meaning to you? And why?
MZ: I recently created a project in Puerto Rico called Caravana Cultural. It grew out of a desire to present music at its purest form, bringing the music directly to the people and setting aside any financial or business related interests. The main purpose is to present free jazz concerts in the rural areas of Puerto Rico, making a "cultural investment" in the island by giving these communities (who otherwise do not have a lot of cultural activity) the chance to listen to jazz of the highest caliber. Musicians like Aaron Goldberg, Nasheet Waits and Gerald Clayton have already participated. Each concert focuses on the music of a specific jazz legend–Charlie Parker, Duke Ellington, Miles Davis, among others–and is preceded by a pre-concert presentation, which touches on the basic elements of jazz and improvisation. The concerts started on february of this year and will run through 2013.
AT: Any future goals or projects coming up you would like to share with us?
MZ: I'm currently working on a commission for Montclair University. The music will feature my working quartet plus a Big Band, and it will be accompanied by some audio manipulation and video elements. The whole project is inspired by the Puerto Rican experience in the United States, especially in New York City. The premier will be in February 2012.
Miguel Zenón will be celebrating the release of Alma Adentro at the Jazz Standard in New York from September 15-18, 2011.
. . .
To learn more about Miguel Zenón visit his www.miguelzenon.com.
To listen to Miguel perform Alma Adentro in the 2011 Newport Jazz Festival,  click here.
. . .
Originally published in the Huffington Post,  August 23, 2011