Andy Adams:
Flak Photo.com is an online art space that promotes contemporary photography from an international community of contributors. The site's main feature is a daily photo blog featuring a different photographer six times a week. Since launching FP five years ago, I've expanded the photo-a-day format to include a monthly Weekend series and photo-books section. I also collaborate with book publishers, art galleries and photo organizations to produce a continuous program of community "happenings" in tandem with the work I show on the site. The scope of the project is continuously evolving and has roots in online publishing and arts exhibition and it's becoming more social every day. Flak Photo's success hinges on new developments in online communication and social media and it's becoming a kind of "real-time" photo community hub.
What is its mission?
A big part of my mission is to help artists get their work seen and my contributors are always updating me with news about exhibitions and publication opportunities that have come out of their pictures being discovered on the site. Web 2.0 technology has played a huge role in expanding Flak Photo's reach and the site's readers are web-savvy people who use social media on a daily basis, so that's really inspired me to explore how those tools can encourage online audiences to communicate with each other about contemporary photography. In addition to the website, I publish a Facebook page and Twitter feed and I host the Flak Photo Network, a group that discusses photography on Facebook.
Why did you create this platform?
Andy: I'm passionate about creative collaboration and am constantly energized by what's happening in the photo community, so publishing the site and participating in these channels gives me an outlet to satisfy that craving.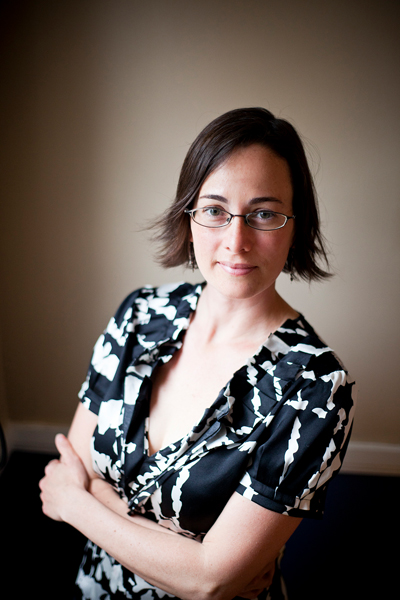 What impact has Flak Photo had in the realm of photography? What opportunities can photographers find through this forum?
Larissa Leclair: I mentioned this in my talk at the Corcoran Gallery during the FotoWeek DC Photography Festival. Flak Photo is an inspiration to photographers, curators and collectors. Mary Virginia Swanson, the photo marketing guru, mentioned Flak Photo in her talk at the 2010 PDN PhotoPlus Expo as one of THE places to have work featured and seen by the fine art community. I heard from Isa Leshko who is part of the larger Flak Photo archive that a German collector bought two prints after seeing her work on Andy's site. Personally, as a curator, it is an easy place to visit to look for new work. Flak Photo is a respected online forum and it has a worldwide reach.
Andy Adams: Flak Photo does provide unique opportunities, and it's just a small part of a vibrant online photo ecosystem brimming with images and ideas. The Internet has changed the way we consider photography, so these are exciting times for image-makers wishing to publicly show their work. The photographer who understands how to be an online publisher can share his or her visual ideas with a worldwide audience and that is incredibly exciting. It's hard to predict where the technology is heading, but it's clear that more of us are connecting with each other in blogs and social networks and those connections are bound to provide new opportunities for collaboration and discovery.
PART II: 100 Portraits—100 Photographers:
Selections from the FlakPhoto.com Archive
What is 100 Portraits—100 Photographers: Selections from the FlakPhoto.com Archives? How & why was it created?
Larissa: I invited Andy to curate one of the NightGallery projections with me for FotoWeekDC. I wanted to add a fine art component to this part of the festival, which at that time only included photojournalism pieces. Knowing Andy and his mission and also being interested in the archive, I suggested using the Flak Photo archive as the initial framework for selection for this projected exhibition. We further narrowed it down with Andy's suggestion of focusing on portraiture. 100 Portraits is about many things. It is about revisiting work of a collective archive and showcasing contemporary portraiture from photographers in all stages of their careers.
Andy: Online publishing and community collaboration are inspiring forces in my photo work and this project is another part of my mission to promote significant artists to a global audience of people who are passionate about photography. Like Flak Photo, I consider 100 Portraits a public art project, so I mounted a complementary digital exhibition so it would be immediately accessible to an international online audience. The community has been amazingly supportive of the project and Larissa and I are sincerely grateful to everyone who mentioned the exhibition in their blogs and on Facebook and Twitter. Since launching last fall 100 Portraits has been viewed by more than 54,000 visitors from 24 countries, which far surpassed my expectations. So, in a way, the project really celebrates the role that the online audience plays in the discovery and dissemination of work produced by photographers in the Internet Era.
What was the curatorial process for this project?
Larissa: Choosing work from the Flak Photo archive was and is an enjoyable experience because Andy has already done a brilliant job of selecting strong work that he features on the site. We each came up with our own list of 100 and then debated over the final photographs/photographers.
Andy: When Larissa approached me to produce this screening, she reminded me that after four years of daily photo updates, Flak Photo's archive has become a kind of contemporary photo collection/digital archive with unique curatorial possibilities. I'm a big fan of portraiture, so this was a fun opportunity to highlight the portrait work I'd been looking at while developing FlakPhoto.com over the years. There are 1400+ images in the collection, which made for an interesting remote collaboration experience when we co-produced the projection by mining the Flak Photo gallery archive over several video chat meetings using Skype and Google Docs.
What is the submission process for Flak Photo? What about 100 Portraits—was there a submission process for this project?
Andy: I maintain a rolling submission policy, so photographers share their work with me on a daily basis. I'm always interested in discovering new, exciting photography and love looking at pictures, so I spend a good amount of my time exploring new work online and in print. When I see something I like, I'll contact the artist and see if they're interested in contributing and most of the time it works out.
Larissa: 100 Portraits was a completely separate project. There was no open call and no submission process. What Andy and I did for this co-curated project for FotoWeekDC was utilize the Flak Photo archive for selection of work. To address the submission process for Flak Photo, Andy is the sole editor. However, I like how Andy regularly taps into the online community on Facebook and Twitter for suggestions of photographers to be shown on Flak Photo. There are of course people who recommend their own work but the suggestions I focus in on, and I do find new work from following these comment strings, is the photographers, curators, writers, and general followers who recommend other people's work.
Why did you choose to project the 100 Portraits on the side of buildings, rather than hang them on gallery walls?
Larissa: This was a unique project that already had parameters relating to how the exhibition would be shown and viewed. Each year FotoWeek DC illuminates the city with projected photographic work, called NightGalleries, and this past year Andy and I were happy to be part of this.
Andy: In some circles, photography remains a predominantly printed medium. Books and prints are highly collectible and their physical presence is still essential for many image-makers. But digital media is transforming photography so it can flourish outside the constraints of traditional publication and exhibition and I'm particularly interested in presenting digital photo experiences, so the FotoWeek DC show was a perfect opportunity to try something new. It was wonderful to seeing these pictures illuminating the night sky at 80 feet wide outside the Corcoran Gallery of Art. Passing cars were slowing down to see the portraits; they really were larger than life.
How would you like to further 100 Portraits?
Larissa Leclair: Since the exhibition's original form was that of a projection, it can be shown again in many different and unique environments and we do hope other festivals will want to show the work in this way. We are contacting other festivals, museums and galleries. Personally I would like to see this group of work in book form.
Andy Adams: I'd like to see the projection travel and show at photography festivals around the world. We're screening the exhibition at several festivals this spring and developing a print exhibition in Australia so it will take on different forms and I expect the project to evolve. A book is a nice idea.